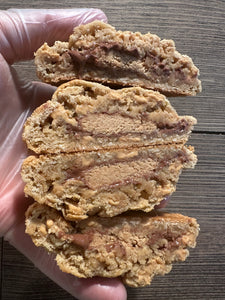 Our delicious Oatmeal base with Peanut Butter chips stuffed with a peanut butter cup.
Totally awesome is right!!
These are so good with that delicious oatmeal base, perfect peanut butter flavor and the Reese's stuffed inside!! This was my first time trying this flavor and even my non-sweet tooth hubby kept coming back for more. We will definitely get these again
Great combo
Oatmeal cookie with a reeses cup inside. I would highly recommend grabbing a pack.