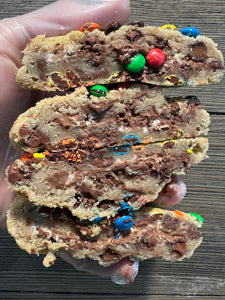 Mallo Cup Stuffed Chocolate Chip Rolled in Mini M&Ms
Can a cookie be pretty?
This cookie is both delicious and pretty. One of a kind for sure. 💕
Delicious Every Time
Every single flavor I've tried so far is delicious and rich. All the cookies are super fresh when they arrive. The unicorn is so yummy when I'm craving cookies and M&Ms.
Incredible taste
I keep trying new flavors and this one is also amazing! I love it!!!
Delicious
These were my fav so far!
Delicious
These cookies are great!! Good job!
I also ordered Churros. Soooo. Good!!!!
Absolutely delicious!
Best cookie i ever had! Was unique and tasted amazing, High quality too
The Unicorn
Definitely one of the top 5!!! It was so, so good!!! This is a keeper!!!