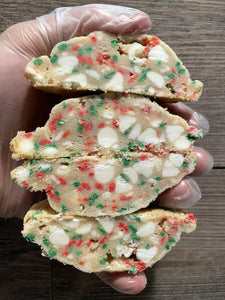 We asked Santa what his favorite cookie is... he told us it is our Birthday Cake sugar cookie with vanilla chips.  He asked that for Christmas we make it a little more festive; just for him.  <3  So we did!!
Christmas in July!!!
These cookies are the best!!! Love them 🥰
It was sweet and delicious and you warm it up is so good
Outstanding
As always outstanding...can't keep enough of these on supply for the season...Everyone LOVES them...
Santa's #1 pick
I wasn't sure what to expect when I ordered these cookies, but I shouldn't have been surprised at how good they are. All the cookies I've ordered from Halfsies have been amazing! Really good sugar cookie. Bought them for Christmas, but they are already gone, that's how good they are.