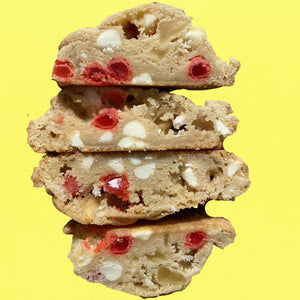 So it's not an actual upside down cookie, but it did inspire us!  In a brown sugar based cookie we added dried pineapples, white chips, and CHERRY jelly beans.
Never a disappointment
Living in a more rural area with no decent bakeries, we've tried lots of different brands of online cookies Halfsie brand is our favorite. Pineapple upside down cookie did not disappoint.
Thought about taking the credit!
I warmed up the cookies for a few guests and heard the yummy noises immediately. I thought about taking credit for making the cookies, by no way I get away with it! Seriously, I ended up wrapping up several more Halfsies for the road.