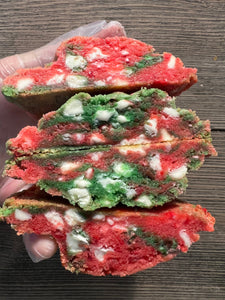 2 Sugar cookies twisted into one!  Green peppermint sugar cookie with Andes candies and a red peppermint sugar cookie with crushed candy canes.  Both have vanilla chips. 
Fantastic Cookies!
These are absolutely delicious! My family and coworkers love them. Thanks Halfsies!
Yummy!
I love the candy cane bits! Tastes like peppermint ice cream without the chill, because who needs cold snacks during the winter?!?