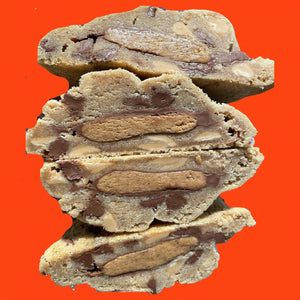 Ok, we know, it's not a buckeye.  But those little treats inspired this monster!   Our Peanut Butter Base with Milk and Peanut butter chips- stuffed with an entire reese's peanut butter cup.
Amazing cookies!
What's there not to love about the peanut butter cookie and chocolate combination?! The buttercup in the cookie—woo!
AMAZING!!!
So good and worth every cent! Order them and impress your guests😋
I did even get a bite, and I bought them!
I brought these to my friends baby shower and as I placed them on the table, walked outside to greet the mother to be, I come back to see the plate is cleared!!! I had 2 others ask me for my recipe 😋
If you want to bring something to a potluck/party, bring these babies
Peanut Butter Buckeye Cookies
Another fantastic cookie from Halfsies Cookie Company! If you love a good peanut butter cookie, this one is worth a try!
The absolute best
I regularly keep the buckeyes in my freezer (they last for months). Absolute favorite in our house.