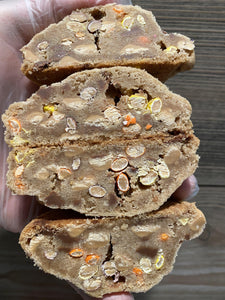 We went nuts. This one is for all of the peanut butter lovers out there!  
Peanut Butter Cookie, Reeses Peanut Butter Chips, Chopped Reeses Cups, Reeses Pieces.   
Obsessed
Dave and the team are culinary artists. When life gave them a few too many extra PB cup pieces, they super served their PB loving customers (like me) and created this masterpiece. Every cookie I try is better than the last.
—A Halfsies fan from Day 1!
Couldn't stop eating them!
I bags been waiting for these to be back in stock, and they DID NOT DISAPPOINT. These were so delicious, and I'm salivating while typing this, just thinking of them.
PB Extreme
The PB Extreme cookies are extremely delicious!
Cookies
PB extreme are delicious!! Will definitely get them again!!
So delicious 😋
These are so peanut buttery!!!!! And so delicious when warmed up!!!!
Greatest Cookies
These cookies were delicious! Best cookies I've ever had. My only regret was not ordering more!