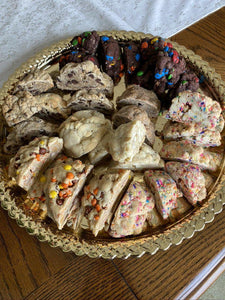 Our mixed packs are primarily used for promotions and giveaways.
Always amazing!
I ordered some cookies from Halfsies and shared them with family and everyone was obsessed with them. We warmed them in the microwave and they were perfect! Will order again and again!
The best of all the cookies!
Wow! This is a dough-luxe assortment of 12 cookies that'll have your taste buds doing a happy tap dance!
The Variety Show We Needed
You know when you sign up for a variety show and some acts are great and others are just okay? Well not here!! Every cookie was top tier. I'd def get these again.
YUP!!!!
When you just can't decide what you want or just need the variety in your cookie jar, the mixed pack is the way to go! I've been a customer for years and have not tried a cookie I disliked yet!
Best cookies ever!
The greatest cookies I ever tasted!
Mixed Pack (12 Half Pack)
Mixed Pack (12 Half Pack)
YASSSS
Doesn't get better than this mixed pack!