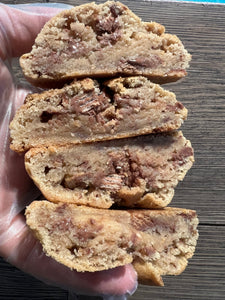 We took our brown sugar base and added chopped Kit Kats.  WHAT?
Allergy statement: Menu items may contain or come into contact with WHEAT, EGGS, PEANUTS, TREE NUTS, and MILK.
What a let-down!
After reading the comments on reviews from a couple Karens, I was expecting to receive trash cookies and I'm disappointed to report that they were, in fact, delicious. I've been lied to and scammed. Guess I'll have to keep buying til I get a batch that's actually stale like one Karen said. Unfortunately I also read the directions and heated them up and they were perfect. Oddly, it turns out the Karen Klan is utterly insane and this company is actually wonderful. Who woulda guessed! ;)
Kit Kat bar cookies
We liked these cookies. They were very good. Don't think they're going to last very long. They're pretty delicious!
Delicious!
Every single cookie I've ordered has been my favorite. This is my Saturday addiction. I love Halfsies and so does my credit card company.
no breaks of this Kit Kat bar
I know Kit Kats are meant for sharing but not when they're stuffed in an OG halfsies cookie base. The crisp for the KitKat mixed with the soft brown sugar base is nothing short of perfection. 9/10
KitKat in a cookie ...how could this go wrong???
Previously bought the sampler pack and all of them were delicious. This one's we're inedible. They were bitter, a weird consistency and generally gross. Even my 4 year old didn't like them. So disappointing because the sampler pack had included flavors that wouldn't typically be my first choice and they were all delicious. This was a major disappointment