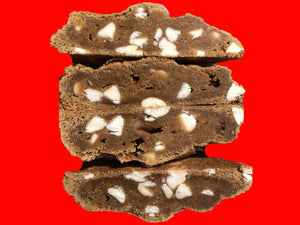 It's Gingerbread, MAAAAAANNNNNN!  We gave gingerbread a shot!  It's a gingerbread cookie with our vanilla chips.
Christmas in my mouth
These are one of the best flavors of you like gingerbread to begin with (and if you don't why are you even on this page? Monster) They are perfect as a side dish for holiday desserts.
The best
Easily the best gingerbread cookies I have ever had. Also probably my favorite cookie so far at halfsies. My fiancé and I are addicted
Thee best!!!
This holiday season I couldn't find any gingerbread cookies anywhere!!! Thankfully halfies just stocked theirs, and boy was I satisfied!!!! Highly recommended before the holidays are over
Gingerbread Cookie (12 Half Pack)