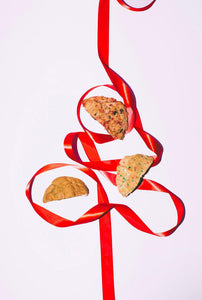 Even Buddy the Elf would approve!  
4 Halfsies of the following flavors:
Gingerbread
Christmas In Your Mouth
Santa's #1 Pick
Christmas delights 🌲
I loved the Christmas sampler. It reminded me of what I used to bake with my grandmother. Definitely recommend!
Xmas Sampler
Halfsies xmas sampler pack was simply great! This was my first time ordering Halfsies cookies and I will definitely order again! This sampler was perfect to take and warm up for my family's Thanksgiving dessert table. Delicious assortment!
So good!!
All the flavors are so good, especially the peppermint chocolate one!!
Such a good combo of flavors in these cookies, very fresh. Fast shipping
Ho ho holy sh*t these are delicious!
Mmmm, the Christmas sampler was fantastic. I loved the gingerbread the most. All three flavors were great though. Highly recommend them.
Delicious
Gingerbread was my favorite it is so good! Fast shipping and freezes and thaws well if saving!
Kids love them, sprinkle filled one's are very sweet. One cookie is enough
The X-mas sampler pack never disappoints. These three flavors are perfection and are all equally delicious.
The cookies were pretty good; definitely better once they are heated up