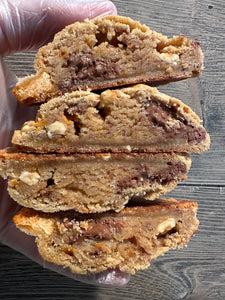 I bought two big bags of candy for our trick or treaters- but we didn't get many.  So I was left with a ton of Crunch Bars, Baby Ruth, and Butterfingers.  We decided to throw them into our brown sugar dough and make this delicious mix! 
Candy bar Halfies
These cookies 🍪 are so delicious 😋 This was a brilliant idea for left over bags of candy! When you buy Halfies you won't be disappointed 😉
Always good
I've ordered several times and they are always amazing!