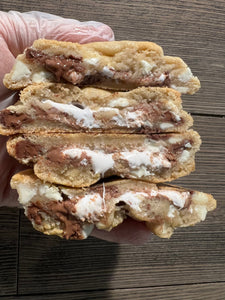 Banana base with milk and white chips stuffed with a mallo cup
Scrumptious Monster Cookies
OH MY GOD, these cookies are BEASTLY and so delicious. I went to get my order from the mailbox and thought why is this package so heavy, I only ordered 2 flavors totaling 12 cookies. I opened and saw the monster of a cookie I received. They are sooooooo good, moist, not overwhelmingly sweet and you can taste EVERY FLAVOR THEY SAY IT HAS. I seriously am jaw dropped by these cookies.
I am so excited to try new flavors.
Thank you for making such delicious cookies. :)
Amazing texture and each flavor popped
These were just the right amount of Krispy, chewy, and gooey. You could specifically taste each separate flavor, and they were just melt in your mouth. Amazing.
Sooooo Delicious
One of our favorites!! I think everyone we have had is a favorite. I love that I can put in freezer pull out for a family get together and I didn't need to bake them..They are already made from scratch! Thank you.. Customer for life!