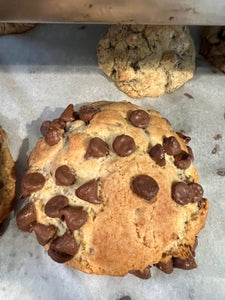 We partnered up with Newburgh Brewing Company to bring you these delicious cookies. Our Chocolate Chip cookie with Honey (inspired by their Bear on the label), a touch of their brown ale, and rolled in milk chocolate chips.
Brown Ale Honey Rolled Chocolate Chip Cookies
Delicious! It was fun to give away as little treats and tell folks there was a secret ingredient.
Delicious
Seriously delicious. So many chocolate chips and semi soft home made cookie texture. I was skeptical but now I'm convinced
Worth every dollar, very good cookies.