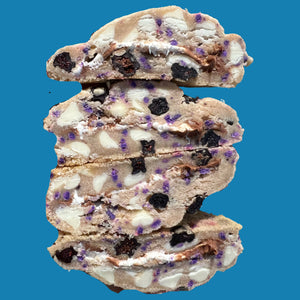 Our delicious sugar cookie with purple sprinkles, vanilla chips, blueberries, and stuffed with a mallo cup. 
Blueberry Yum Yum (12 Half Pack)
OOEY GOOEY
So good. Warmed up in the oven is PERFECT
Another fantastic flavor
Blueberries are my favorite, so I set the bar high for these Halfsies. So good. So far, I have tried them with coffee, tea, and milk.