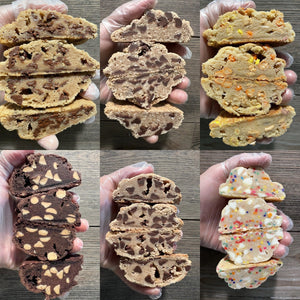 A Lil' Sumpin' Sumpin' from each cookie on the menu.  Pack Contains 2 Halves of each Starting 6 cookie! 
1- Chocolate Chip
2- Churro
3- Birthday Cake Vanilla Chip
4- "I Hate Raisins" Oatmeal Dark Chocolate Chip
5- Chocolate PB Chip
6- You want a Reese's piece of me?
Allergy statement: Menu items may contain or come into contact with WHEAT, EGGS, PEANUTS, TREE NUTS, and MILK.
Cookies
These cookies are soooo yummy
So delicious!
I LOVE Halfsies Cookies! The flavors are so good. I've ordered a few times now and will be ordering again.
Cookies are delicious!!
Theses cookies are so tasty! The whole family loved them. We got the fall sampler and the regular sampler. I do wish the cookies flavors were labeled somehow or came w a map like a box of chocolates. We weren't sure which flavor we were heating up but every single bite was amazing!!!
Best cookies!
These cookies are delicious! I love the soft, chewy texture inside and the crunchy outside. Each flavor is so good, I haven't been able to choose a favorite!
Delicious!
Halfsies was kind and generous enough to send me a gift when my first delivery did not arrive fresh. These cookies are amazing! I can't stop snacking!
I definitely recommend:)
Halfsies Sampler (12 Half Pack)
The best gift
I love sending the sampler as a gift. Everyone RAVES about them!
This is perfect
Every flavor in this pack is different and delicious.
Love every flavor
Definitely warm them up- game changer
Amazing
I had placed the order by accident. Was in the fence about them but after getting a personal email from the owner Dave. I changed my mind! I am so grateful that I did! These cookies have to be the best cookies I have had since my grandma passed!! I will be ordering more for sure! A lucky accident!
Thank you
Stacey